About Delta Structures, Inc.
---
Delta Structures is the leading manufacturer of custom Space frames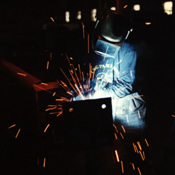 Delta Structures, Inc. is an experienced designer and fabricator of custom space frames and dedicated canopy structures for private clients.

Well rooted in the progression of space frame technology, Delta Structures, Inc. was founded in 1996 as a privately owned United States corporation with a mandate to advance the use of space frame structures in building design. In 2000, Delta Structures, Inc. acquired the Unistrut Space frames Division of Allied Tube and Conduit Corporation (a TYCO International company) allowing Delta Structures, Inc. to meet market needs in greater measure. The number of system designs offered increased along with the knowledge and impact of a broader installed base. Design freedom and flexibility advanced accordingly with the variety of systems available, both structural and aesthetic.

Delta Structures, Inc. space frames and geometric structures are focused on environmental concerns and offer numerous advantages for LEED conscious design and application. Our space frame structures are helpful in garnering design credibility for GREEN qualifications since our structures are lightweight, made of high content recycled material, use less energy to produce, cost less to deliver and install, come with a low maintenance/low environmental impact finish and are flexible in design to the point that they can be easily de-commissioned and moved, stored or installed in another location.

Delta Structures, Inc. space frame components are constructed of certified, locally sourced steel. Nodes are made of forged steel, milled and drilled to design requirement. The completed structure has a tough, mar resistant architectural finish (paint or powder coat) that is attractive and easy to maintain. We offer a range of standard colors, and custom colors are available as an option in meeting the requirements of your client.

Delta Structures, Inc. provides you with the comfort of engaging a worry free structure and design based upon years of experience and specific knowledge.